Welcome to Furi wiki!

[

]
Furi is a fast-paced game, combining elements of twin-stick shooters, bullet hell, and third-person action games. The player is challenged in one-on-one arena boss fights getting progressively harder on the way!
Furi has been inspired by Japanese games such as No More Heroes, Metal Gear Solid, and Godhand, and is the result of my desire to capture the combined moment of fright, passion, and adrenaline you feel when in a fight. Furi is a skill-based game. The diversity of opponents and attack patterns is there to make the player refine their skills and get better and better, instead of increasing the character's stats or his weapons. Ultimately, feeling your skills improve, as a player, is what feels best in a video game.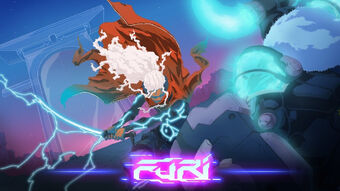 Wait! Have you beaten Furi yet?

[

]
Due to the nature of how Furi's story unfolds, spoilers are unavoidable! If you're looking for lore, make sure you've brought The Stranger's tale to a conclusion."
If you're looking for help on defeating a boss, select a boss from the list and find the section labeled "Fight"; it will have all the information you need to complete the bosses on Furi's difficulty. The rest is up to skill, so good luck, and earn your freedom!
Boss List
[
]